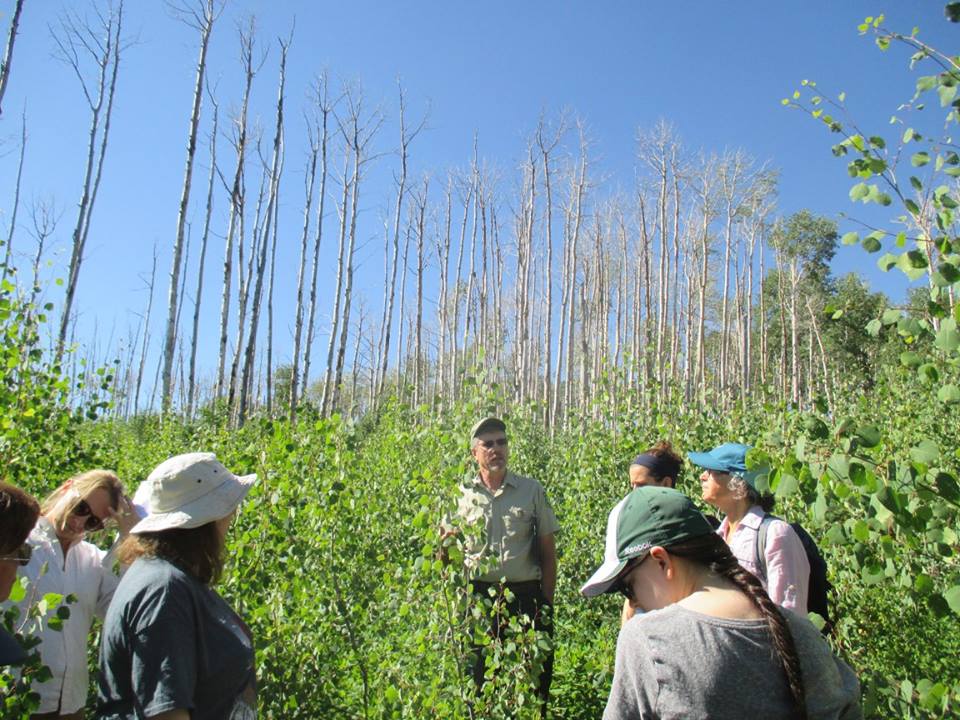 Let's reminisce for a minute. Remember when "Thriller" was a #1 hit? That was 1983. Remember when Sally Ride became the first woman in space? Also 1983. Remember the last time the Grand Mesa, Uncompahgre, and Gunnison (GMUG) National Forest Plan was revised? You guessed it–1983.
We're a little overdue.
Forest plans guide the management of National Forests, and are usually updated every 15-20 years. Three phases make up a Forest Plan: assessment, revision, and monitoring. For our own GMUG National Forests, the Forest Service began the assessment phase in 2006, but put the process on hold due to a change in federal regulations guiding Forest Plan revisions. So yet again, in 2017, the GMUG National Forests are in the assessment phase.
Part of the assessment process is soliciting public input. You can email the GMUG Forest Managers directly, submit a comment, sign up for the GMUG Forest Planning email updates.
******UPDATE – NOVEMBER 2017*******
On November 6, GMUG released the draft Assessment Reports for Forest Plan Revision. There will then be a 30-day comment period, where USFS will be seeking public input. These assessments and public input will inform the next phase of the process, Revision and Plan Development.
The USFS will host two webinars to walk you through the format of the Assessments and answer any questions you might have. Please consider joining us:
Stay tuned for more from WSCC!
******UPDATE – AUGUST 2017- Miss the GMUG Open Houses? Have no fear! Catch an upcoming webinar hosted by the USFS to learn more about the process!
Tuesday August 22 at 5:00 p.m. to 7:00p.m. (https://usfs.adobeconnect.com/gmug-500/)
Thursday August 24 from 3:00p.m. to 5:00p.m. (https://usfs.adobeconnect.com/gmug-500/)
You can also view the poster presentations featured at the Open Houses RIGHT HERE.**********************
WSCC is also seeking public lands enthusiasts to provide input and share your knowledge to help us make recommendations for management of specific areas within GMUG. To get involved, please email patrick@theconservationcenter.org.
Event
 Date
Time
Location
County
Public Open House
07/25/2017
5:30p.m. to  7:30p.m.
Lincoln Elementary School Kiva (Common Space). 1050 Hastings St. Delta, CO
Delta
Public Open House
07/27/2017
5:30p.m. to 7:30p.m
Fred R. Field Western Heritage Center VanTuyl Room. 275 S. Spruce St. #A. Gunnison, CO
Gunnison
Public Open House
08/01/2017
5:30p.m. to 7:30p.m.
4H Center, Mt. Sneffles Room (South Room). 22739 US-550, Ridgway
Ouray
Public Open House
08/03/2017
5:30p.m. to 7:30p.m.
Lincoln Park Barn. 910 N. 12 St, Grand Junction,CO
Mesa
Public Open House
08/10/2017
5:30p.m. to 7:30p.m.

Wilkinson Public Library, Program room     

100 W. Pacific Ave, Telluride, CO

San Miguel
Public Open House
08/14/2017
5:30p.m. to 7:30p.m.
Montrose High Scool Cafeteria. 600 Selig Ave, Montrose, CO
Montrose
Public Open Hpuse
08/15/2017
4:30p.m. to 6:30p.m.
Lake City Community School, Common Space. 614 Silver St,              Lake City, CO
Hinsdale
Public Open House
08/17/2017
4:30p.m. to 6:30p.m.
Saguache, Meeting Room at Road and Bridge 305 3 St, Saguache,CO
Saguache