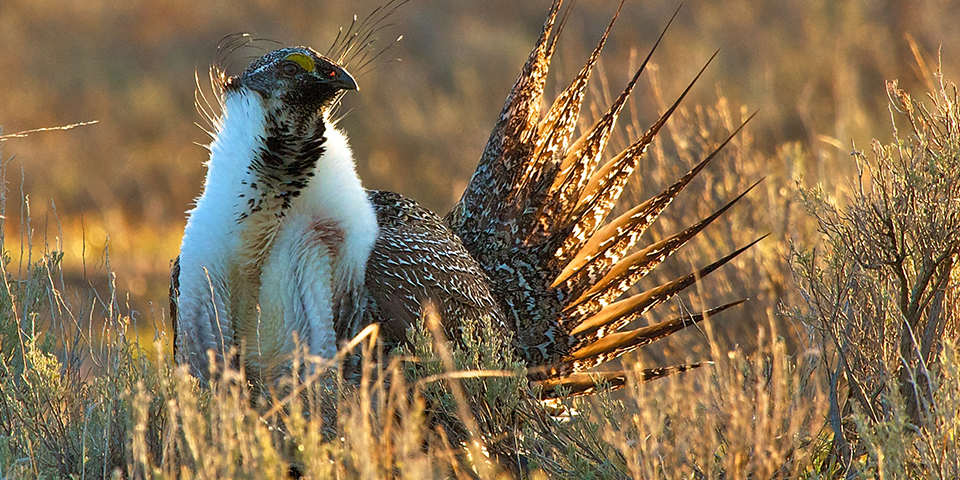 The Sage Grouse, while rarely seen, is one of the most celebrated symbols of Western Colorado.  Only 4,000 remain in the wild today, and many of them call the Gunnison Basin home.
The Gunnison Gorge National Conservation Area, southwest of Crawford, sustains about 100 Sage Grouse in the flat sagebrush land surrounding the gorge. The sage, serviceberry, and other shrubs provide vital food and cover for the birds.  The Buttermilk Fire of this past summer burned over 700 acres, much of which was critical habitat for Sage Grouse. Furthermore, in the remaining unburned habitat areas, young juniper and pinion trees are growing in.  Sage Grouse are highly averted to areas with juniper and pinion (or any) trees, as these are prime perching spots for one of their foremost predators: raptors and red-tailed hawks.
To do what we can to help these threatened birds, WSCC is working with our partners Colorado Canyon's Association and the BLM to create optimal habitat in the Gunnison Gorge NCA.
The Work: We will be removing young juniper and pinion trees using loppers and hand saws. This will remove perches for predatory birds, and we will leave the trees where we cut them, providing habitat for animals and moisture retention for the soil.
Dates: Tuesday, October 23 & Saturday, November 17
Time: 10:00 AM – 2:00 PM
Location: Gunnison Gorge NCA near Crawford, CO / C77 Rd
We will be meeting at 9:00 AM at the Conservation Center office in Paonia, or in Hotchkiss or Crawford. Sign up below!