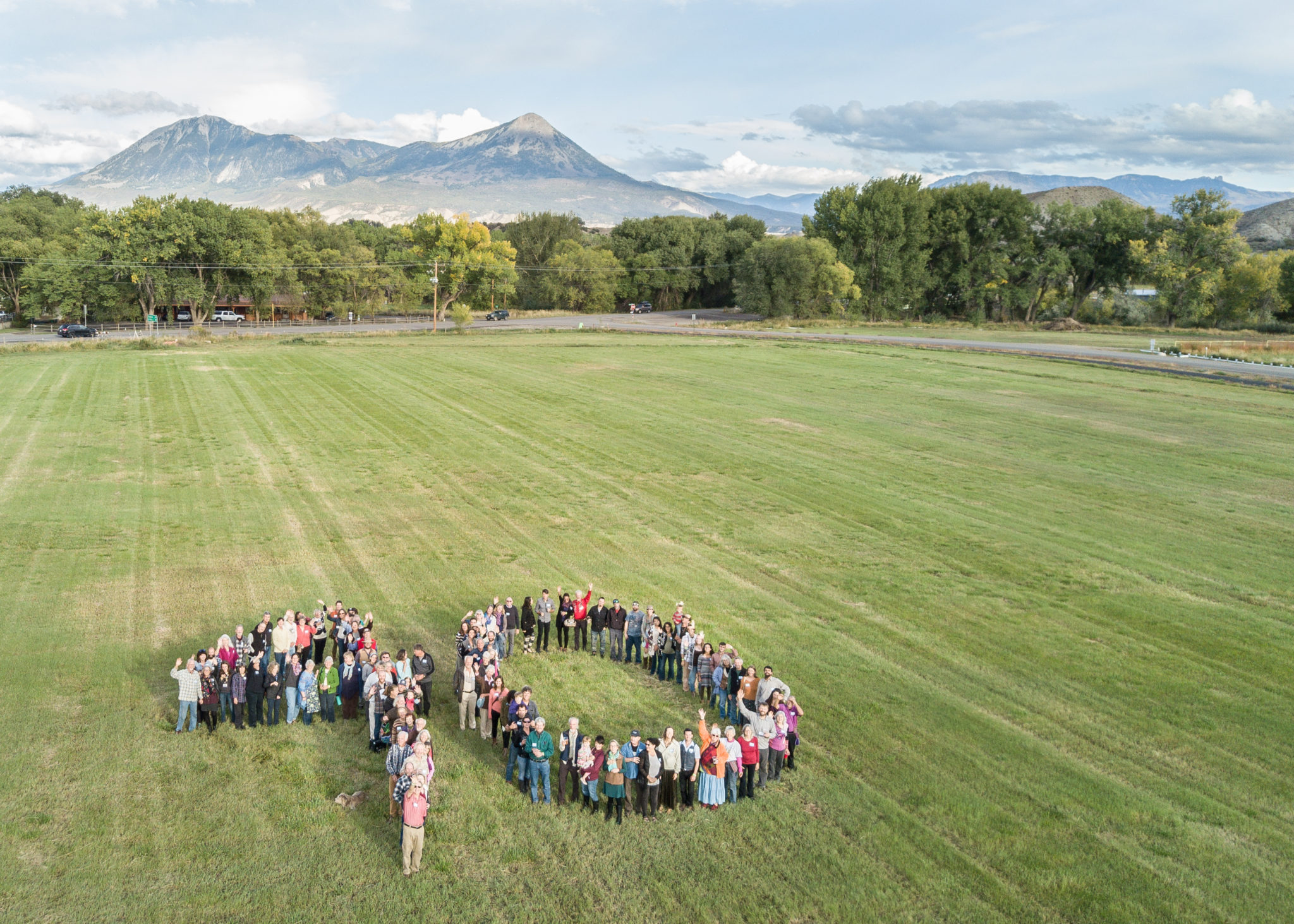 To bring our 40th year to a close, we are excited to present: "Stories from our 40" – a series of short stories detailing the Western Slope Conservation Center's successes since 1977.  Each week leading up to Giving Tuesday, we will share stories from members, staff, directors, and supporters of WSCC and our predecessor organizations, Western Slope Environmental Resource Council and North Fork River Improvement Association. Feel compelled to support your environment and community? Fill out the form at the bottom of the page to donate today!
WE WANT TO HEAR FROM YOU!! Have a fond memory or success story from our 40 years? Post in the comments below, or email us!
Check here for highlights from our past – 1997- 2007 and 2007-2017!
STORIES FROM OUR 40: 1987-1997
Western Slope Energy Research Center AKA Western Slope Environmental Resource Council 
In 1993, the Western Slope Energy Research Center changed its name to Western Slope Environmental Resource Council to better reflect their wide range of work for the environment. Aside from coal l and natural gas issues, WSERC and its members worked diligently to stop clear cutting of our forests, close illegal OHV roads, protect water rights, and stop unnecessary transmission lines supporting coal power plants. WSERC leveraged the dedication and organization of its members by forming committees to tackle specific issues. Members formed a Coal Committee, Gas Committee, Public Lands Committee, Recycling Committee, just to name a few. WSCC still uses this model today, with a Public Lands Committee, Watershed Committee, and Education Committee.
Selected Accomplishments – 1987-1997
Began fight to stop AB Lateral from drying up the Gunnison River.
Black Canyon National Park and Wild & Scenic River for the Gunnison River proposed
New by-laws adopted and name change to Western Slope Environmental Resource Council in 1993
Appealed oil and gas draft Environmental Impact Statement for GMUG & White River National Forests in 1993
Opposed opening roadless areas in GMUG to development and logging and stopped timber sales in Springhouse Park Roadless Area.
Began work with ranchers on Holistic Resource Management plan for West Elk Wilderness.
Hired first staff since 1981, Executive Director Steve Hinchman
Filed suit to stop prison construction on State Wildlife Area
KEEPING IT IN THE BASIN – STOPPING THE AB LATERAL
One common theme central to WSERC and all of it's committees was water. We all know that water is the lifeblood of the North Fork Valley, supporting our farms, ranches, wineries, livestock, and a budding recreation industry. In the late 1980s plans were made to divert water from the Gunnison River at Black Canyon of the Gunnison (then) National Monument to the Uncompahgre Valley to be used for hydroelectric power generation.
The A-B lateral would have diverted a staggering 41% of water from Black Canyon of the Gunnison to the Uncompahgre Valley. According to "Lifelines: The Case for River Conservation" author Tim Palmer, flows in the Uncompahgre River would reach flood levels, eroding banks and flooding wetlands, and worse. The increased flows would flood the Delta area "at least twice as often as it historically flooded" according to former WSERC board member Robin Nicholoff. Flows in the Black Canyon of the Gunnison (then a National Monument) would be reduced to 300 cfs over 60% of the time, crippling the Gold Medal trout fisheries, riparian ecosystems, and river recreation industries.
Interestingly, the AB lateral was not meant to supply agricultural water; rather, the project would create hydroelectric power, generating revenue for the irrigators. Long-time WSERC board member Steve Wolcott said in a 2007 interview, "It was a scheme…to use hydroelectric power to pay for irrigation." However, the local electric utility already had no need for the power or project. "But it wasn't clear that it would actually ever make money and was clear that it would cause problems for both the Uncompahgre and the Gunnison Rivers."
So WSERC and its members got to work. "They wanted to dam up the Gunnison Gorge in the Black Canyon and put a hydro-plant down there. We went around house to house… arming people with correct facts so they could make informed decisions," said WSERC co-founder Rita Murphy. WSERC volunteers, along with pro bono attorneys and lawyers, analyzed the NEPA document and highlighted its many deficiencies. WSERC developed a scientific analysis of the devastating impacts of the proposed project. We presented the findings, along with the groundswell of local opposition to the project, to the Army Corps of Engineers regional director in Salt Lake City.
In 1992, Army Corps of Engineers denied the project's permit. That was far from the end however, and WSERC continued to fight the project. Finally, after nearly 2 decades of resistance, lawsuits, appeals, blood, sweat, and tears, the project was shelved, keeping this water flowing through the Black Canyon of the Gunnison and Gunnison Gorge to the benefit of the fish, wildlife, boaters, recreationists, and people of the Gunnison Watershed.
SUPPORT 40+ MORE YEARS OF WSCC – DONATE TODAY!