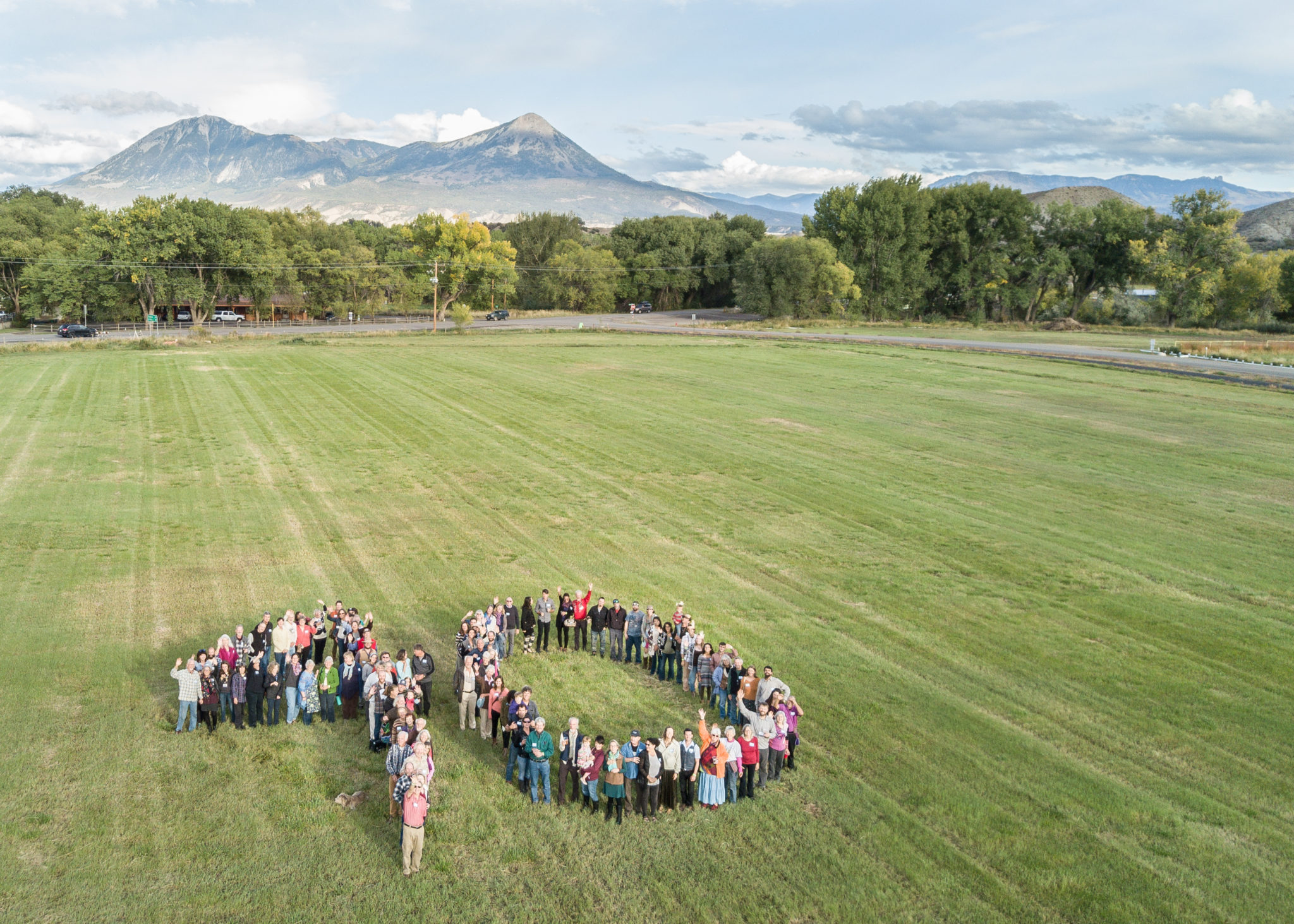 To bring our 40th year to a close, we are excited to present: "Stories from our 40" – a series of short stories detailing the Western Slope Conservation Center's successes since 1977.  Each week leading up to Giving Tuesday, we will share stories from members, staff, directors, and supporters of WSCC and our predecessor organizations, Western Slope Environmental Resource Council and North Fork River Improvement Association. Feel compelled to support your environment and community? Fill out the form at the bottom of the page to donate today!
WE WANT TO HEAR FROM YOU!! Have a fond memory or success story from our 40 years? Post in the comments below, or email us!
Check here for highlights of our most recent decade, 2007-2017!
STORIES FROM OUR 40: 1997-2007
North Fork River Improvement Association 
In 1996, community members and riverfront landowners formed the North Fork River Improvement Association (NFRIA) to address concerns related to the health of the North Fork of the Gunnison River. From the very beginning, NFRIA leveraged the passion of its members to improve the state of the lifeblood of rural Colorado: our water. To quote NFRIA's Watershed Restoration Action Strategy for the North Fork Gunnison River published in November, 2000, "NFRIA takes a community-directed, solution-focused, grassroots approach to watershed organization and river rehabilitation. The mission of this group is to meet current and future demands for traditional uses of the river while improving stream stability, riparian habitat, and ecosystem function. It is designed to empower the community as an alternative to traditional "top-down" government regulatory approaches to river restoration."
Since 1996, NFRIA & WSCC members have restored eight miles of river channel, re-engineered seven irrigation diversion structures, restored over 50 acres of wetlands, and removed a dam. In April 2001, NFRIA started a River Watch for Lower Gunnison Watershed, a citizen science water quality monitoring programming. Still going strong today, our River Watch program is one of the longest running programs in the state of Colorado!
Success Spotlight: Chipeta Dam Removal 
The Chipeta Dam was located approximately 1.8 miles southwest of the Town of Hotchkiss, downstream of the Town's wastewater treatment plant. This concrete structure was 4 feet high and spanned 175 feet across the width of the North Fork of the Gunnison River. Erected in the 1950s, the Chipeta Dam was built to divert water to the Chipeta Unit of the US Fish and Wildlife Service's (USFWS) Hotchkiss National Fish Hatchery. The hatchery was decommissioned after a massive landslide in 1981 rendered the dam defunct. The dam, however, was not removed at that time and it continued to pose serious problems for fish, wildlife, boaters, and the entire river & riparian ecosystem.
In 2002, the USFWS attempted to remove the Chipeta diversion because it was no longer necessary, but failed due to funding limitations and bureaucratic restrictions. Following this attempt, NFRIA petitioned the USFWS to fund the dam's removal to provide fish passage for native fishes, and to rehabilitate the riparian habitat immediately above and below the dam.  Removal of the dam would also contribute to the safety of recreational users by opening the waterway.
Determined to restore the North Fork to its native conditions, NFRIA and former Executive Director Jeff Crane took a lead role in the dam removal project, coordinating partnership efforts with the USFWS, Colorado Water Protection Fund, Wildlife Forever, Trout Unlimited, the Conservation Alliance, the Paonia Kayak Club, and local landowners and businesses. Together the coalition raised the necessary funds and got to work.
In January 2006, destruction to remove the dam began. Just a few weeks later, the Chipeta Dam was removed and the North Fork of the Gunnison River was once again directly connected to its downstream reaches. Rainbow and brown trout, and native bluehead and flannelmouth suckers could once again flow freely along the North Fork, as could boaters and river recreationists. NFRIA got to work restoring the riparian corridor with native vegetation, creating habitat for elk, deer, eagles, hawks and other species that rely on healthy riparian zones. 
Following removal of the dam, NFRIA received an award from USFWS in Washington D.C. for "outstanding contribution to fisheries and habitat conservation."
Modified From Crane, 2014. Assessment of Aquatic Ecosystem Restoration Projects 1999-2014.
Public Lands Successes 1997-2007
From 1997-2007, WSCC's other predecessor organization, Western Slope Environmental Resource Council (WSERC), engaged heavily in public lands and environmental issues ranging from energy development to recycling.
Selected Accomplishments from 1997-2007
Published Delta County Recycling Guide
Joined North Fork Coal Working Group.
Took lead in lawsuit challenging Dept. of Corrections for building prison in Wildlife area.
Signed agreements with Bowie Resources and Mountain Coal Company to minimize impacts from coal mining in the North Fork Valley
Successfully lobbied Congress to adopt Black Canyon of the Gunnison National Park
WSERC organized community action to affect the county process to keep Coal Bed Methane development out of Delta County
Successfully protested the proposed BLM leasing of the Paonia Recreation Area for gas development
Successfully protested BLM lease of Crystal Meadows for gas development
Established agreement with Mountain Coal creating the Conservation Assistance Program (CAP)
Success Spotlight: Conservation Assistance Program
In the early 2000s, WSERC and Mountain Coal Company created the Conservation Assistance Program (CAP), which helped local landowners establish conservation easements on their property. CAP helped landowners preserve land and maintain its conservation values: natural habitat for wildlife, agricultural resources, farms and ranches, orchards, vineyards,  and the scenic qualities of our landscape.
As an incentive, landowners could earn substantial sums through tax credits that could be used to subsidize farming operations, augment retirement income, or any other purpose. One of the main reasons for considering a conservation easement for a farm or ranch family is to try to keep the land in the family and continue a viable agricultural operation in the future. CAP helped farmers and ranchers faced with economic need keep their land in the family instead of subdividing and selling.
"You think about some families that have been in the valley for a number of years, and they've worked the land, and businesses are different now, they have value in their land and their property, but they don't have much to show for it," said Phil Schmidt, Manager of Engineering and Environmental Affairs at West Elk Mine, in a 2007 interview. "It's a way to reward them for sticking with their goals and some of the things that are important in their life and providing a good outcome for them."
CAP, which was led by Susan Lohr, facilitated the easement process by helping landowners match up with the best land trust for their needs and guiding them through the legal and administrative maze of conservation easements. From 2005-2014, CAP, WSCC, and Mountain Coal Company helped landowners put over 10,000 acres of agricultural land and wildlife habitat in the North Fork Valley into permanent conservation easements, protecting our region's idyllic rural lifestyle and our remarkable natural resources.
SUPPORT 40+ MORE YEARS OF WSCC – DONATE TODAY!