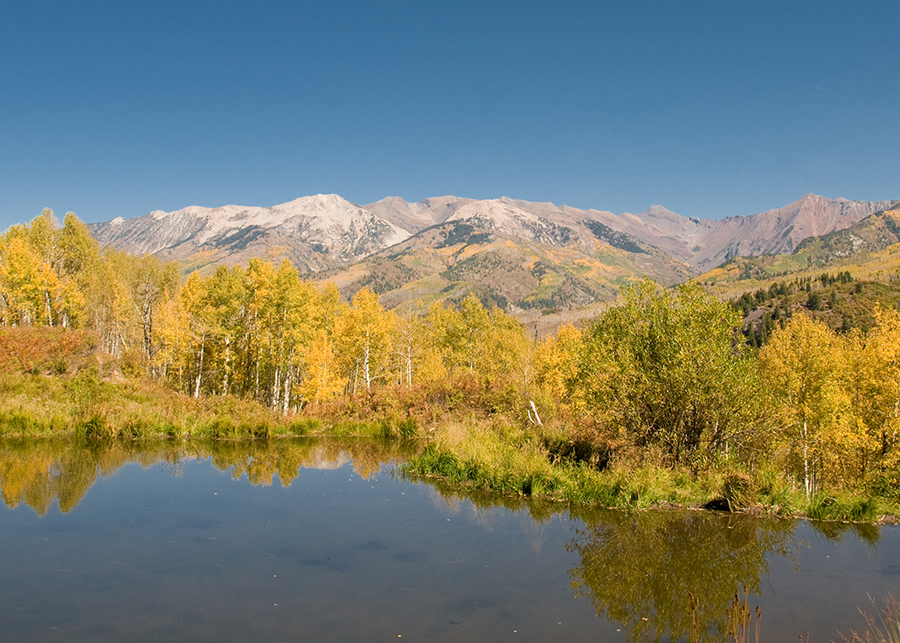 The North Fork Watershed is Too Wild To Drill!
The Arctic National Wildlife Refuge. Bears Ears National Monument. Grand Staircase-Escalante National Monument. The Greater Grand Canyon Watershed. And, of course…..The North Fork of the Gunnison in Colorado. These are just a few of the incredible places that are highlighted in The Wilderness Society's Too Wild To Drill campaign, a profile of wild places threatened by oil, gas, and mineral extraction on public lands.
Those of us who call the North Fork Valley home know what makes this place unique: fertile soil, organic agriculture, high-country wildlands, desert rivers, and so much more. Earlier this decade, the people of the North Fork Valley rallied together to oppose the nearby BLM lease sale.  We then convinced the BLM to consider the North Fork Citizens' Alternative in their Resource Management Plan. But the fight is far from over and our home continues to be threatened by oil and gas development. The BLM recently accepted SG Interests Bull Mountain Master Development plan to drill 146 natural gas wells in the headwaters of the North Fork of the Gunnison.
Read the full report and sign The Wilderness Society's petition to oppose oil and gas drilling in the North Fork Valley here. Then, sign our petition telling the BLM to adhere to the protections outlined in the North Fork Alternative in the BLM Resource Management Plan!
Video credit: The Wilderness Society
September 19, 2017
Contacts:
Jeff Schwartz, Delicious Orchards/Big B's Juices & Hard Ciders, 
970-201-7573
North Fork of the Gunnison makes list of 15 wild areas at high risk of development for oil, gas and other resources 
New report shines spotlight on important wild lands that must be protected
Paonia, Colorado —A new report 
released
 today by The Wilderness Society raises the
alarm about Colorado's upper North Fork of the Gunnison Watershed , along with other wild
lands across the U.S. threatened by extractive industries eager to exploit the resources on or
underneath them, including oil, gas and coal.
'Too Wild To Drill' identifies 15 unique places found on public lands that are at high risk of
drilling, mining and other development—and the damage and destruction that inevitably
follow. These lands provide Americans with important benefits such as clean air and water,
wildlife habitat, recreational opportunities, sacred sites, and jobs and other socioeconomic
benefits.
"This report is a wake-up call to people who love the wild backcountry and national forests
around McClure Pass," said Jeff Schwartz, owner of Delicious Orchards Farm Market and
Big B's Juices & Hard Ciders. "And to those of us who rely on the clean water that flows from
these mountain watersheds. Oil and gas development will enrich private interests but take
too much away from the North Fork Valley and its ecology, economy, health, and recreation.
These public lands and our water sources must be protected."
Energy development damages landscapes, often permanently. Impacts resulting from
infrastructure like well pads, oil rigs, roads, fences and pipelines include air and water
pollution from spills, chemicals and dust, as well as phenomena like industrial traffic, gas
flares and other light pollution, and loud noise that can disrupt communities and wildlife.
"Some places are simply too wild to drill," said Jim Ramey of The Wilderness Society. "The
federal government must resist pressure from energy companies and other special interests
to open up our last remaining wild places for development."
According to the report, the North Fork area is facing a range of development threats,
including several new oil and gas development schemes, active drilling in adjacent leases,
and a likely renewed efforts to open even more public lands in the area to this activity.
The Wilderness Society issues a new version of 'Too Wild To Drill' every few years to call
attention to vulnerable places on public lands. In this edition, places highlighted include the
Arctic National Wildlife Refuge, one of the most remote and wild places left in the world.
"The Interior Department is required by Congress to manage, on behalf of the American
people, almost 450 million acres of public lands for many different purposes, not just energy
extraction," Ramey said. "Yet oil, gas and coal have long had an outsized influence—and
footprint—on public lands. It is long past time that we take some of these lands off the
table."
Energy companies already have more leases than they can apparently use. Of the 27 million
acres currently under lease to oil and gas companies—an area about the size of
Tennessee—more than half are sitting idle. And the coal industry already has 20 years of
reserves under lease on public lands.
While oil, gas and coal companies and their activities have an indisputably disproportionate
influence on public lands, other imminent threats to treasured public lands identified by
'Too Wild To Drill' include uranium and sulfide-ore copper mining and groundwater
extraction.
The 
release
 of 'To Wild Too Drill' falls in the midst of numerous reviews of public lands
policies, ordered by President Donald Trump and Interior Secretary Ryan Zinke, that are
taking place behind closed doors with little or no public oversight or accountability. In fact,
earlier this week news broke of the Trump administration's secret efforts to roll back
protections for several wild places featured in 'Too Wild To Drill,' including the Arctic
National Wildlife Refuge and the Bears Ears and Grand Staircase Escalante national
monuments, presumably to make them available for energy development.
This month also marks the end of the 180-day review period established by President
Trump's "Energy Independence and Economic Growth" Executive Order. The directive
requires federal agencies to review any regulations that could "potentially burden" fossil fuel
development. The Trump administration is known for its close ties to the extractive
industries.
"We must protect our wildest places for future generations, and the upper North Fork is one
of those places," said Alex Johnson, Executive Director of the Western Slope Conservation
Center. "Just up the hill we have world-class elk and mule deer populations, moose, bear,
and even mountain goats, all thanks to the unspoiled streams, parks, and forests of the
region. We can't sell out this place for short-term oil and gas company profits."
###
The Wilderness Society is the leading conservation organization working to protect wilderness and inspire Americans to care for our wild places. Founded in 1935, and now with more than one million members and supporters, The Wilderness Society has led the effort to permanently protect 109 million acres of wilderness and to ensure sound management of our shared national lands.
The Western Slope Conservation Center is a grassroots conservation group who has been working for public lands advocacy, watershed stewardship, and environmental education in the North Fork and Lower Gunnison Watersheds for the last 40 years.