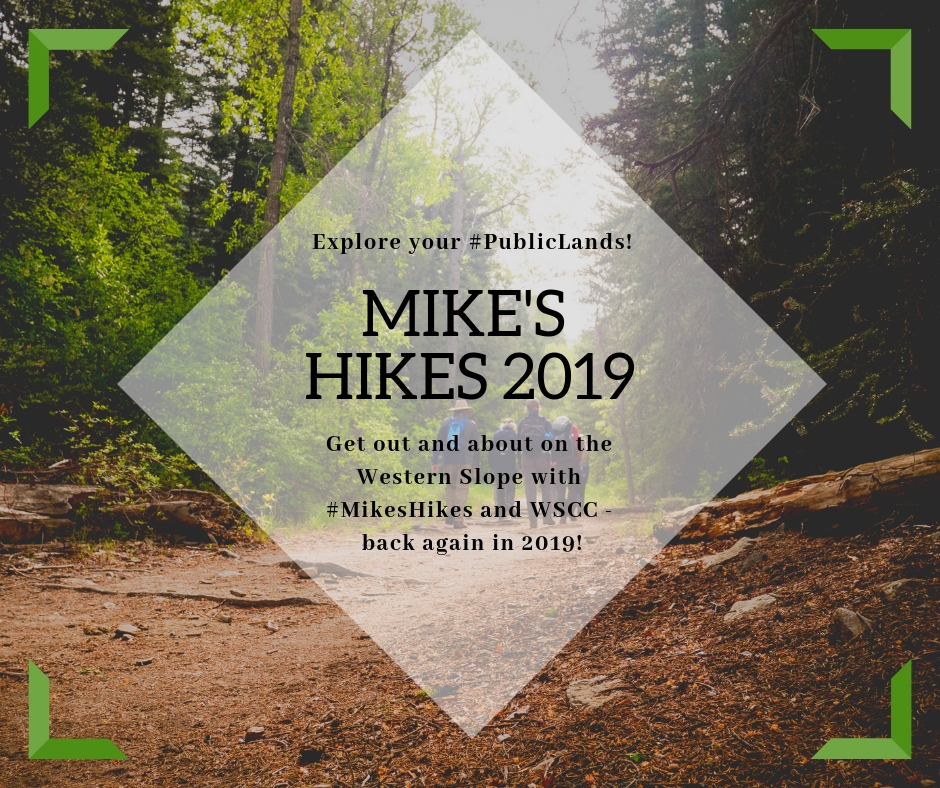 Summer is just around the corner! Join WSCC on one of our many Mike's Hikes to get out of town and explore our public lands!
Back after a wildly successful 2018 season, Mike's Hikes is here to help you explore the far reaches of our public lands, where spectacular trails and adventures lie!
All are welcome to join! There are hikes for everyone – our program this year spans a wide variety of interests, location, and strenuousness.
See the 2019 schedule below!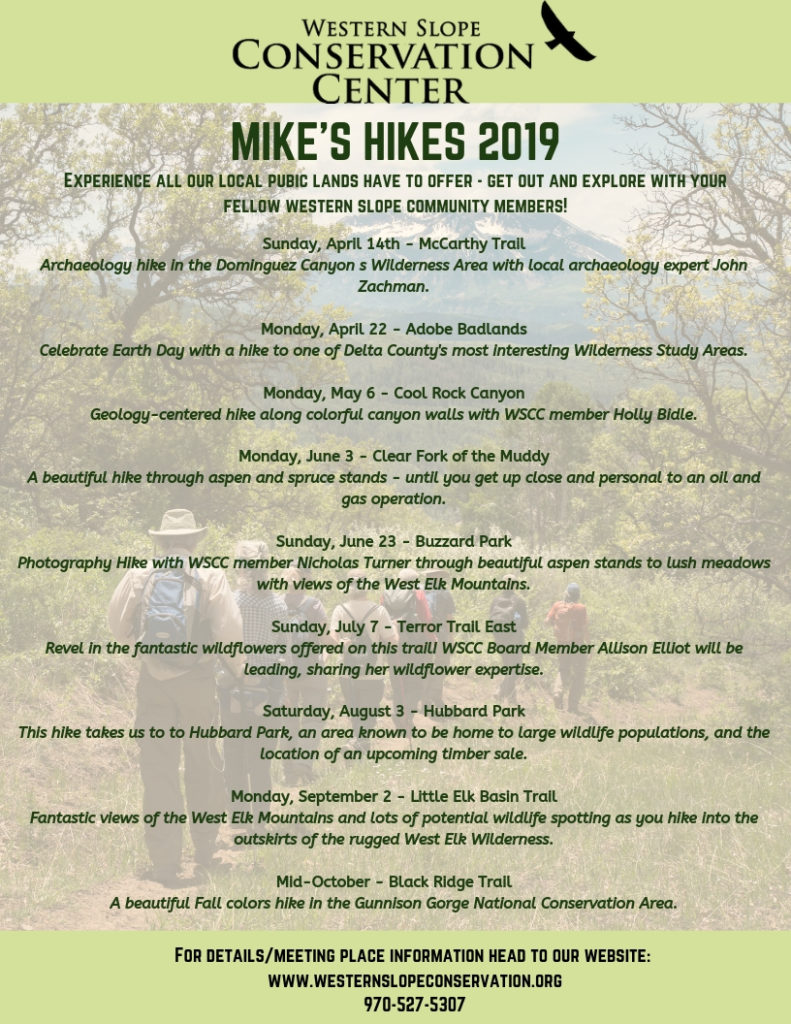 Buzzard Park Trail: Sunday, June 23rd
Photography Themed Hike
Gunnison National Forest
Description for this upcoming hike to come soon!
About the Area: The Buzzard Park Trail forms the northern border of what WSCC has recommended for wilderness in the Chalk Mountain area. If you take this trail approximately 6 miles westward, you come to Willow Creek. Monument Trail skirts along this creek, and it more or less forms the northwestern boundary of Chalk Mountain Recommended Wilderness. The southern portion of Chalk Mountain area is near the Overland Reservoir and the FR705 that takes you to that reservoir.
See some descriptions of completed hikes below!
Munsey Ruby Stock Driveway Trail: Monday, June 3rd
Raggeds Wilderness and Dark Canyon Hike
Gunnison National Forest
De-brief of the hike and trail report:
Having no idea what the trail conditions would be at the Erickson Springs Trailhead off Kebler Pass Road, the 8 of us met at the trailhead.  We hoped to hike up the Munsey-Ruby Stock Trail off the Dark Canyon of the Anthracite Creek. This trail would take us up along the part of the land that is included in the Colorado Outdoor Recreation and Economic Act (CORE).
This Act has been introduced earlier this year by Senator Michael Bennet and CO US Representative Joe Neguse. The CORE Act would permanently withdraw 200,000 acres ranging from near Carbondale down to Kebler Pass from future oil and gas development, while preserving existing private property rights for leaseholders and landowners. WSCC is encouraging all members to send comments to Senator Cory Gardner, who is not in support of the CORE Act.
This was the reason we chose to hike the Munsey Ruby Stock Trail. Before we left for our hike, we had to lather up with tick repellent due to the multitude of ticks along this trail.  But more importantly, trip leader Mike Burkley read some appropriate quote from Edward Abbey and Republican President Teddy Roosevelt, about the importance of wilderness*.
Crossing the bridge about ¼ mile from the trailhead, we marveled at how high and fast the Anthracite Creek raged below us.  We then hiked on the seldom used Munsey Ruby Stock trail. It lead us to an open traverse about 100 feet above the creek which provided us with spectacular views up Dark Canyon with the creek below.   We then dropped down to a level area past a private cabin. This is where the normally dry trail turned into a small creek. We continued as far as we could until we came to the banks of Munsey Creek. It had overcome its banks here and it had totally inundated the trail. We could go no further.  So we turned back towards the main trail, but not before Lisa and Betsy had the chance to smell and hug a huge Ponderosa Pine Tree along the trial.
We ended up hiking up Dark Canyon and its trail, which took us immediately into the Raggeds Wilderness. Even though we had to abort Munsey Ruby Stock Trail, no one was disappointed in the 2 mile hike up this canyon. There were a number of places along the trail we had to try hard to avoid water that had overtaking the trail. There was one small creek crossing where we had to leap and slip across the water to the trail. But we mostly came out dry and unscathed.
The highlight of this hike, other than enjoying the company of all the fellow hikers, were the numerous waterfalls falling down from the cliffs above the main creek. These are only due to the heavy spring melt-off, they normally aren't flowing. But there were two or three way up high on the opposite side of the creek – easily 300-400 feet above the Anthracite Creek. This was one of the most spectacular ones on our side, and we heard one hiker comment these reminded them of the famed Yosemite Falls (which is one of the tallest falls in North America), minus the hundreds of tourists.
We arrived back at the trailhead just before storms hit the North Fork Valley. We did have a few sprinkles, and heard some thunder, and saw dark skies. A couple of us had to pick off a couple of ticks along the trial, and at the cars after the hike we all did a thorough examination to get rid of all the ticks. But to quote Betsy, "this was a life changing hike". There's nothing else one can say after that statement. Other than to emphasize that this spectacular land outside the Raggeds and West Elk Wilderness, we need to write comments to Senator Gardner telling him how he must support the CORE Act and protect this area from oil and gas development. Also, we need to thank Senator Bennet and Representative Joe Neguse for their efforts in advancing this legislation through Congress.
*  "Lying out at night under those giant Sequoias was like lying in a temple built by no hand of man, a temple grander than any human architect could by any possibility build, and I hope for the preservation of the groves of giant trees simply because it would be a shame to our civilization to let them disappear. "
The quote above was from a speech from in 1903 from President Roosevelt on his Glacier Point camp outing with John Muir. On 6/11/1906 President Roosevelt signed a bill designating the valley of Yosemite Valley and the Mariposa Grove a National Park.
"Wilderness is not a luxury but a necessity of the human spirit, and as vital to our lives as water and good bread."
Edward Abbey
Description: Moderate-strenuous hike.  The start of this hike is the Dark Canyon Trailhead at Erickson Springs.  It's a long, steady hike – at times quite steep and little shade. We'll climb about 2,000 feet in elevation in 3.5 miles to spectacular overlooks.  After the first mile from the trailhead, only hikers and horses are permitted – no motorized or mechanized vehicles allowed. Yet this whole area is outside The Raggeds Wilderness, although much of the way we will be within .25 to .50 miles on either side of the trail from designated wilderness.
Bring good hiking boots, poles, plenty of water, sunscreen, snacks and lunch. The area is known to have some ticks, but we should be out of tick range after about a half mile of hiking, once we get above the creek. Make sure to wear long pants and bring some bug spray as well!
About the Area: The Raggeds Wilderness was designated in 1980 along with the passage of the Colorado Wilderness Act of 1980. The area is known for it's prominent rocky slopes and serrated ridges, which give this Wilderness area it's well-deserved name.
See the pictures below from our hike!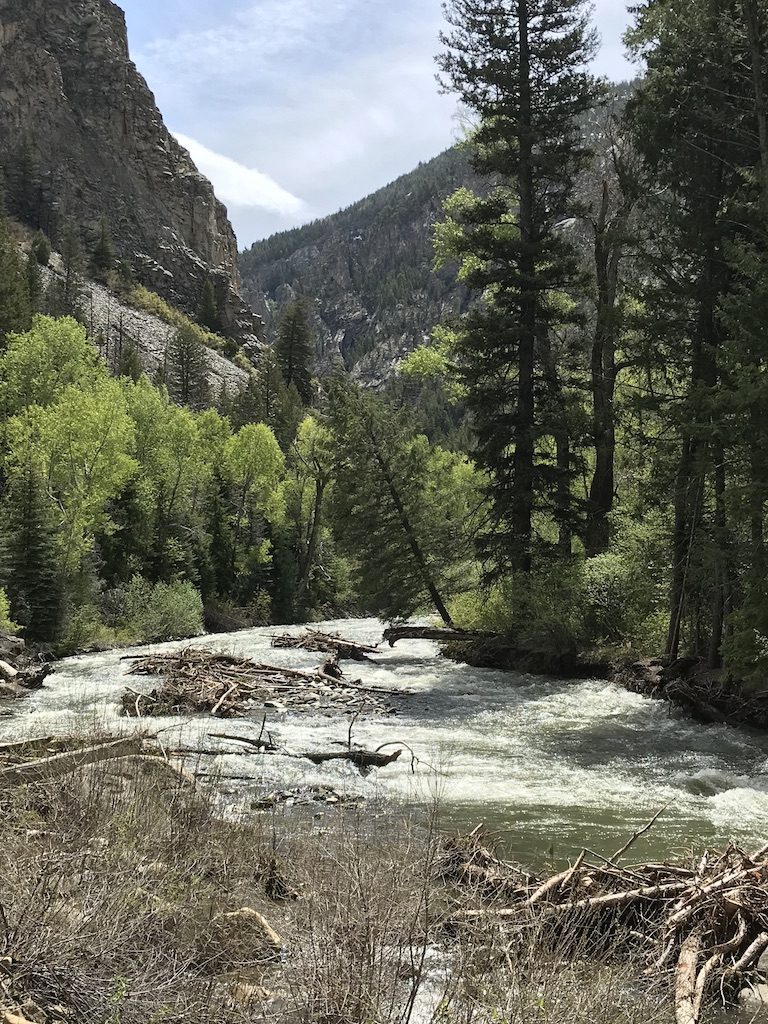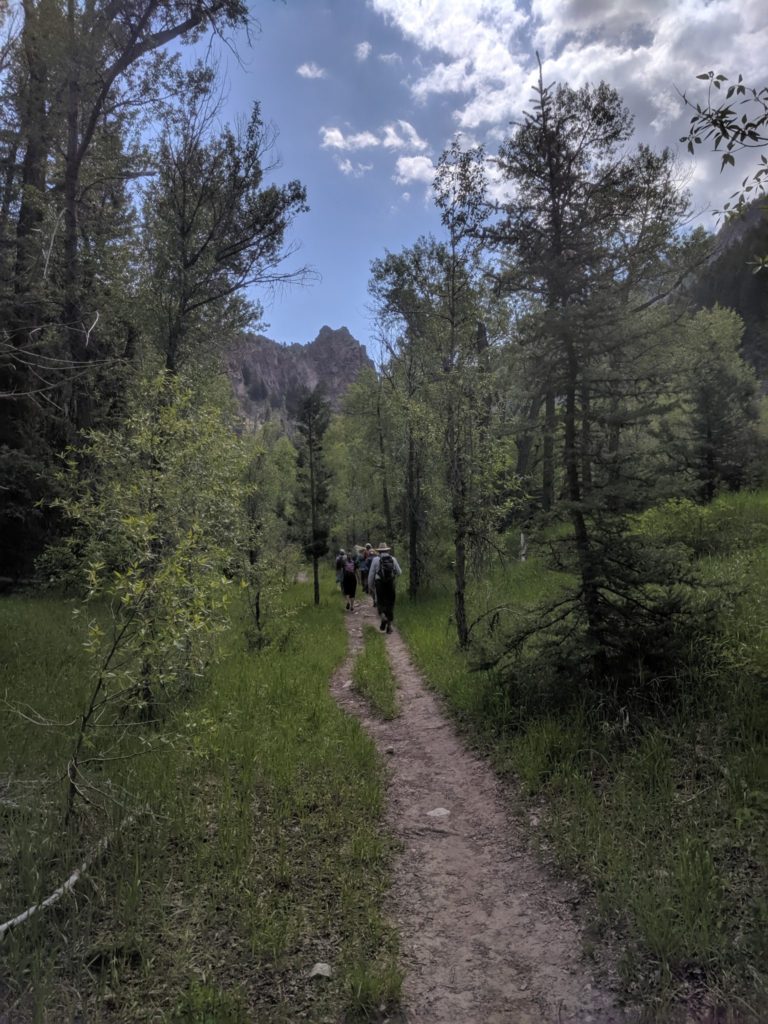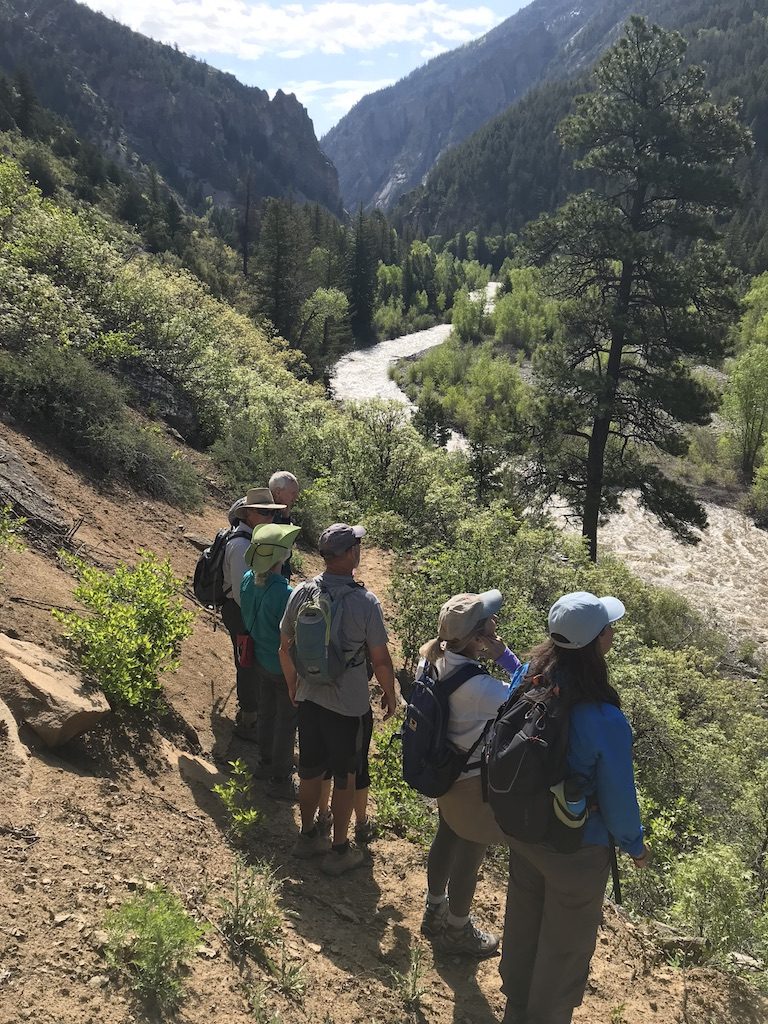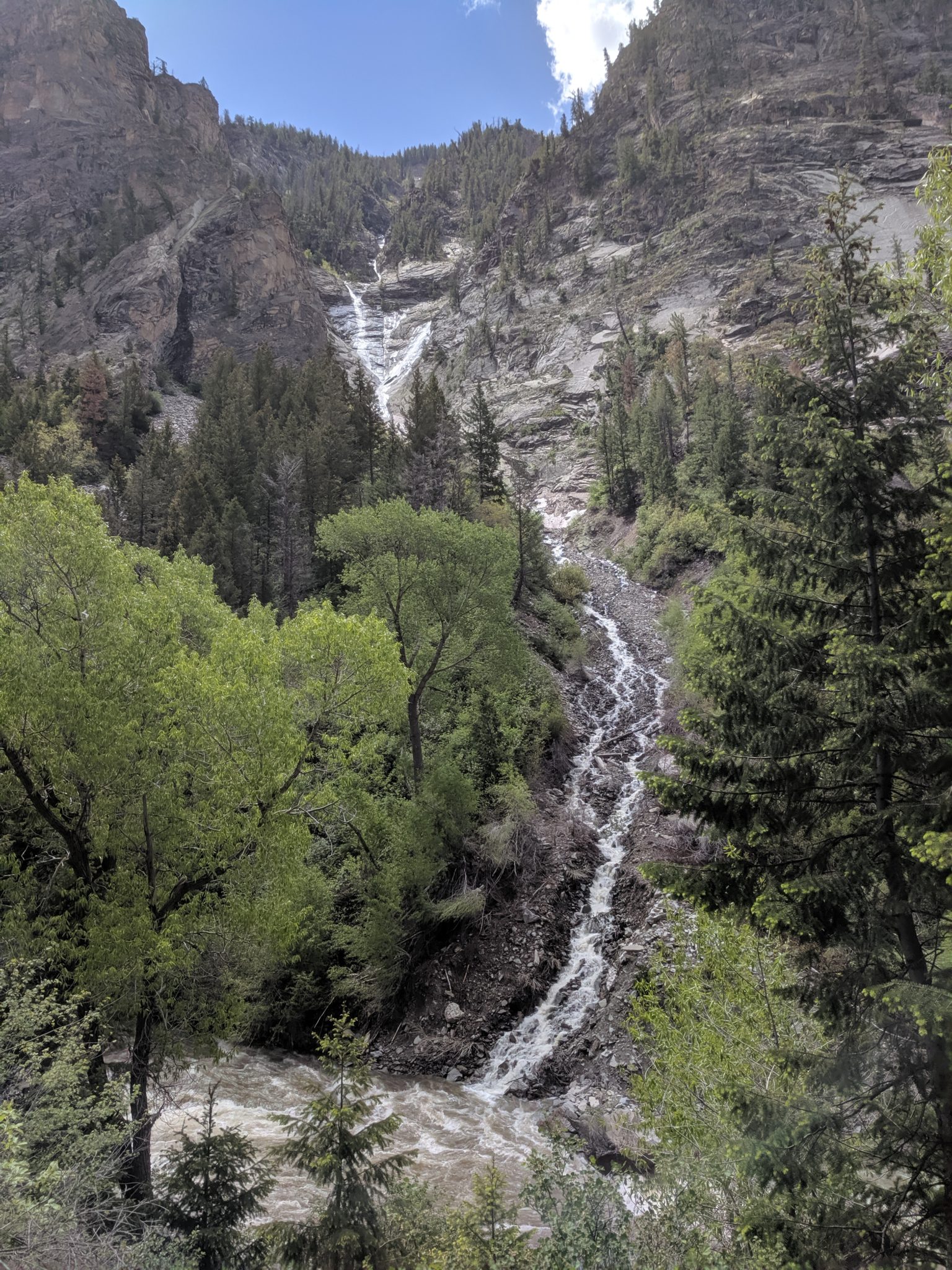 Cool Rock Canyon: Monday, May 6th
Cool Rock Canyon – Geology Hike
Gunnison Gorge National Conservation Area
De-brief of this hike: The Cool Rock Canyon trail winds through colorful sandstone canyon with interesting rock formations and fun places to explore.  It is located on South River Road in the Gunnison Gorge NCA, just outside the designated Wilderness Area where only hiking and horseback riding is permitted.  The 62,844 acre NCA encompasses diverse landscaping and is recognized for its geologic, scenic, wilderness and recreational resources.
Five of us left the trailhead along the Gunnison River. We started up a slope at the mouth of Cool Rock Canyon and dropped into the dry, gravelly wash.  There is no trail, but it's an easy to follow route straight up the wash – with minor rock hopping and a few boulders to climb up. We hiked about 2 ½ miles up the canyon to where we took our lunch break and decided to head back.
The theme for this outing was geology regarding the cool and unique formations in this canyon.  We were walking through rocks that were formed 150-200 million years ago – mostly Sedimentary Rocks of the Entrada and Morrison Formation.  Every turn and bend we made in the canyon brought us to a totally different view and type of rocks – sometime steep walls, large overhangs and ledges, or evidences of rock falls from who knows how many years or centuries ago.  
This canyon was bone dry, and considering that the drive along South River Road took us along extremely arid terrain that had very little vegetation, one would not expect the beauty and ecology that we enjoyed in Cool Rock Canyon.  There were plenty of wildflowers – purple thistles, globe mallow, desert cliff rose, and others that we weren't able to identify. There were many junipers and some quite large blooming Mormon Tea bushes. The canyon was so quiet, not a sound other than the numerous birds, which included the sweet song of the Canyon Wren.  The highlight may have been a few a few sightings of the large bright green and yellow- toed Collared Lizards.
See pictures below from our hike!
How to get there: Drive south from Austin to access the South River Rd (south of the Gunnison River).  The South River Road is dirt and can be steep and rocky. It's about an hour drive from Paonia.
This is a moderate hike. Starting elevation is 5100 feet and it is a moderate 2-3 mile hike one way; with ending elevation approximately 5600 feet.
About the Area: The Gunnison Gorge NCA is over 62,000 acres that was designated in 1999 by Congress.  It is recognized for its outstanding geologic, scenic, and wilderness resources.